Sequence of return risks for drawdown
You might be aware of the expression "investing before retirement is very different to investing after retirement" but what does this actually mean?
When you are saving for retirement you have both time and money on your side. Time to weather the up and downs of the stock market and money to pay the bills and to pay into your pension.
When you retire things are different because you will be taking money out of your pension pot (drawdown) and if there is a stock market crash you may not have the time or money to ride out the storm.
Sequence of returns risk is the risk that investment returns are lower than expected (or even negative) in the early stages of drawdown resulting in capital being eroded quicker than anticipated. If this happens your drawdown fund may not be able to sustain future income payments and there is increased risk your income may be reduced or in the extreme, running out of money unless investment returns are higher than expected in the future.
The chart below shows the sequence of returns in practice. Notice how the fund (green bars) falls in value soon after the start of the drawdown because the stock market has fallen. In this case the situation is saved because there was strong growth in the stock market during 2012 but if the market had not bounced back so quickly this drawdown pot would have been in a sorry state.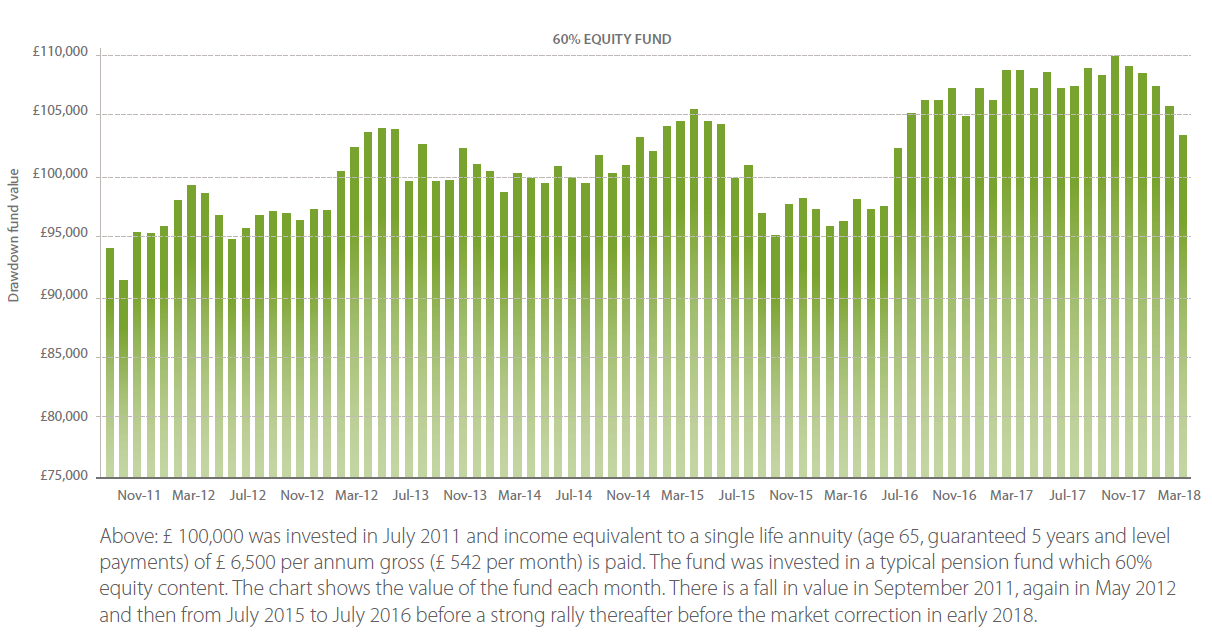 There are a number of ways of investing in order to reduce the sequence of returns risk and these include:
Paying income out a cash fund and topping up the cash from growth funds in the good years
Investing in 'smoothed returns' funds
Using guaranteed funds and structured funds
Reducing (or stopping) drawdown when returns are negative